What's hiding in your book? (Paper)

Paper is a key ingredient when looking at notebooks and journals as it has a big impact on the writing experience. A good paper fades into the background and allows you to focus on expressing yourself.
When picking your next book it's also important to pair the right paper with your writing instrument. What's good for pencil is different for a fountain pen.
If you typically use pencil you will want a paper that has a little bit of "tooth" (texture) to allow the graphite to adhere to the page. Go for a paper with a higher GSM (the weight of a square metre of that paper in grams, generally the heavier the weight of the paper the thicker it is.) as it will be better able to handle erasing and will last longer. It's important to choose Acid Free paper for artwork as it won't turn yellow and deteriorate over time.
If you are using a fountain pen, you want paper that is smooth so that the nib will glide across the page without catching. If you don't wish to see your writing on the reverse side of the page go for a paper with a higher GSM such as Apica paper. Speciality fountain pen paper such as Tomoe River and Masuya Manuscript paper is thin and less absorbent, this means the ink won't bleed through the page or feather (spread).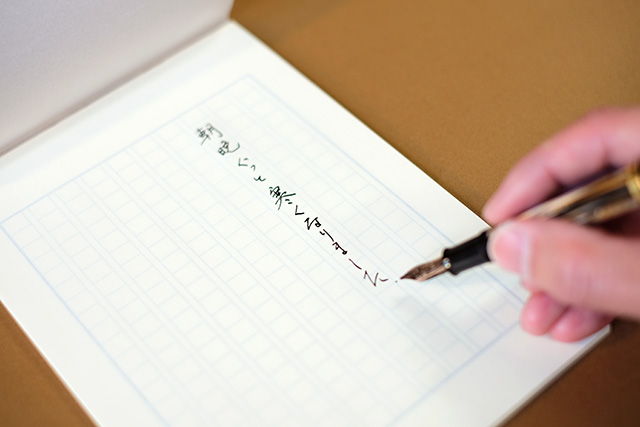 Masuya Manuscript paper gained cult status amongst Japanese writers in the mid 1900's and was dubbed "literary award guaranteed" paper due to its popularity with award winning writers. It's history is intertwined with the fountain pen as the ideal pen and paper for Japanese writers. The cream colour was chosen as most writers at the time worked at night, and the cream absorbs light to reduce eye fatigue.
Some notebooks are also available with synthetic paper made from extruded polypropolene. This paper has special properties making it water and tearproof. Field Notes Expedition Notebooks are made with this paper and its recommended to use a pencil or ballpoint pen as it will dry faster.
Paper comes in many different forms so when choosing your next notebook here are a few things you can consider.
GSM: GSM is the weight of a square metre of that paper in grams, generally the heavier the weight of the paper the thicker it is.
Size: Notebooks are usually made in the B or A size range. Paper sheets leave the paper mill in A0 size, as its folded in half or guillotined it becomes A1, then A2, A3, A4, A5 and A6. A4 is your common printer size.
Acid Free: Ideal for artwork as it has archival qualities and won't fade and become brittle over time.
Tooth: The tooth refers to the fibres of the paper, the more tooth the more textured it will feel.
Experience some different types of paper today
Shipping Rates
Free Express Shipping on orders over
$79 in Australia
Free Standard International Shipping on orders over
$100 to New Zealand
Letter Post
Some thin items like notebooks can ship as letters in quantities of 1 or 2 for just $3
(within Australia)
Low Rates
Parcels with tracking numbers from just $7.75 Australia wide
Need 24/7 Parcel Collection?