Kanazawa Gold Leaf

Kanazawa, the capital of Ishikawa Prefecture on Japan's central Honshu Island is known for it's well-preserved Edo-era districts, art museums and regional handicrafts.
It's also famous for producing gold leaf and accounts for 98% of all gold leaf production in Japan. The name even translates to "marsh of gold".
When visiting the region you can try edible gold leaf topped ice cream.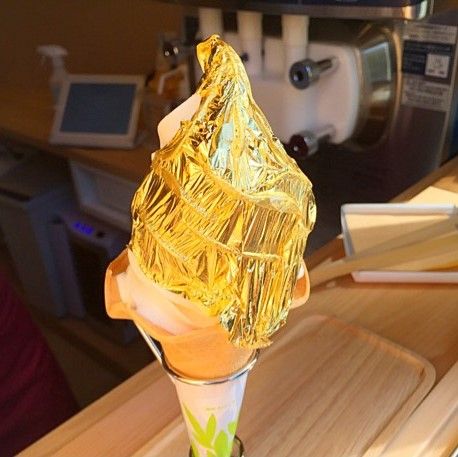 Kanazawa became the ideal area for creating gold leaf, due in part to the climate of the Hokuriku region, which has the perfect combination of humidity, heat and water quality.
With techniques passed down for hundreds of years skilled craftspeople are able to create gold just 0.0001 - 0.0002 mm thick, making it ideal for decorating precious objects like the Ascending Dragon fountain pen made by Platinum (now available at Bookbinders).
Gold is produced and then stretched to just 0.2mm thick, then they cut the gold to squares and place it between sheets of speciality paper. A process of beating the stack of paper and stretching the gold follows until they create the final, delicate squares of gold leaf.
Each sheet of finished gold leaf is removed and placed on a hiromono-chō (a pad). Bamboo chopsticks and fossilized shark teeth are used to handle the leaf, as they are static-free. As the gold leaf is so thin, even the slightest breeze or static electricity could ruin the sheets so they must be handled very delicately.
When using Kanazawa gold leaf to decorate the Ascending Dragon fountain pens they take each sheet and carefully cut them into strips. Each strip is then layered and glued to the barrel of the pen to create a stunning work of art. Each pen is finished to create a durable surface which radiates gold.
When decorating traditional Urushi Maki-e pens the gold leaf is torn into little pieces and sprinkled on to the design. The gold brings the art to life.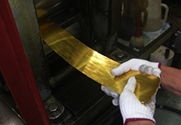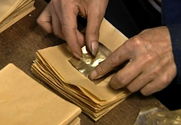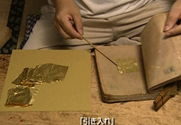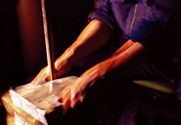 See our range of pens decorated with Kanazawa Gold Leaf
Shipping Rates
Free Express Shipping on orders over
$79 in Australia
Free Express International Shipping on orders over
$120 to New Zealand
Letter Post
Some thin items like notebooks can ship as letters in quantities of 1 or 2 for just $3
(within Australia)
Low Rates
Parcels with tracking numbers from just $7.90 Australia wide & $10.80 to New Zealand
Need 24/7 Parcel Collection?